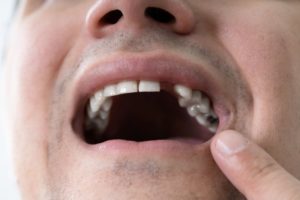 There are seven main face shapes: oval, round, square, diamond, heart, pear, and oblong. While your genetics generally determine the curves of your face, tooth loss can begin to change it over time. Unfortunately, having gaps in your smile can begin to age and negatively impact your appearance. Read on to learn about how missing teeth can affect the shape of your face and how dental implants can restore your vibrant and healthy appearance!
How Do Missing Teeth Affect Face Shape?
An incomplete smile due to tooth loss is often associated with not being able to eat the foods that you enjoy or lacking the confidence to smile freely. However, even missing one tooth can begin to impact the appearance of your face. Here are some common ways how:
Facial Angles – The length of the jawbone is affected by tooth loss, resulting in lowering facial height. Changes in the angles of the face can also make the face appear sunken or hallowed.
Facial Wrinkles– Without your pearly whites adding fullness to your face, more vertical lines are formed and make you look older than you really are.
Bite Pattern – Tooth loss causes changes in how your teeth come together. The deterioration of a bite pattern can cause the corners of your mouth to lose shape, creating a harsher facial expression.
Frown Appearance – You can often appear unhappy or angry without your pearly whites shaping your mouth.
Sagging Jowls – Missing teeth causes the muscle ligaments in your face to weaken, resulting in the sagging of facial tissue in your cheeks.
Thinning Lips – Teeth contribute to the fullness of your lips. They will appear thinner with tooth loss. Additionally, your lips can appear longer as the muscles around your mouth become weaker without the support of your pearly whites.
How Dental Implants Can Restore Your Smile and Your Face Shape
Dental implants are one of the most reliable, lifelike, and durable tooth replacement options. They are connected directly to the jawbone using titanium, biocompatible steel posts. Unlike other restorations, they replicate your natural teeth, from root to crown!
Due to the ability to mimic real teeth, they can successfully restore your appearance! Not only will they return the fullness to your face, helping all the issues mentioned above, but they will continue to strengthen your facial features. The roots of your teeth activate your jawbone whenever you bite or chew. When a tooth is lost, the jawbone loses circulation, causing it to break down. Since dental implants replace the root of your teeth, they encourage blood flow in the jawbone, keeping it strong and healthy…and positively contributing to your face shape! With time, your jawbone naturally grows around the posts, which forms a bond that is as strong as the pearly whites you were born with.
If you are suffering from tooth loss, are you ready to not only restore your smile but the shape of your face? Consider the gold standard of tooth replacements: dental implants!
About the Author
Cosmetic & Restorative Dentistry of the Keys is eager to help you complete your smile through the expertise of Dr. Amanda Cobb and Dr. Dan Mazor. As active members of various associations, including the American Dental Association, they want to help you achieve optimal oral health. They provide a wide range of services, including tooth-loss solutions like customized in-house dental implants. To schedule an appointment, contact them through their website or call (305) 680-1553.