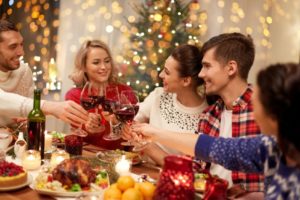 The holiday season is finally in full swing, and there are quite a few things to be excited about—especially if you're a fan of food! But being a foodie also means that you should take extra-great care of your smile, considering all of the classic, festive foods that are enjoyed this time of the year. Your dentist in Big Pine Key has some tips to help you enjoy the holidays this year without ruining your pearly whites. Keep reading to learn more.
1. Mind Your Diet
As great as they might taste, there are several classic Thanksgiving and Christmas dishes that aren't exactly smile-friendly. You should try to enjoy sugary sweets and starchy items in moderation and stick to a healthy, vitamin-rich diet when possible. Eating calcium-rich foods can also promote healthier enamel. You should drink plenty of water to help wash away any cavity-causing particles from your smile.
2. Brush and Floss Regularly
You absolutely don't want to disregard your oral hygiene during the holidays, no matter how busy you are! By neglecting your oral health during the holiday months, you'll be at an increased risk of cavities, stained teeth, gum disease, and more. Make sure that you're setting aside enough time to brush and floss daily; an antibacterial mouthwash can also prove useful. If you're traveling, be sure to snag a travel-sized toothbrush before heading out!
3. Get Plenty of R&R
It's pretty easy to get stressed out during the holidays, as you might have a lot on your plate and several things to take care of. But feeling unnecessary stress can sometimes lead to bruxism, which causes you to grind and clench your teeth unconsciously. Needless to say, this can seriously damage your teeth if left unchecked. To avoid feeling overwhelmed, make sure that you're getting plenty of rest and relaxing over the holidays; your teeth will thank you!
4. Seek Preventive Dental Care
It's never a bad idea to schedule one of your biannual preventive checkups before you get too caught up in your holiday festivities! These visits allow your dentist in Big Pine Key to inspect your mouth for underlying oral health issues, in addition to giving them the chance to clean your teeth of stubbornly built-up plaque and tartar.
Following these helpful tips this holiday season will let you make the most of your time with family, friends, and food—while also ensuring that your pearly whites look and feel their absolute best.
About the Author
Dr. Amanda Cobb has proudly served patients and families in the Big Pine Key area for several years. Her practice is thrilled to offer a wide range of cosmetic, restorative, and preventive dental services. If you have any questions about how you can protect your smile this holiday season, or if you'd like to schedule an appointment, feel free to contact Dr. Cobb through her practice's website or over the phone: (305) 680-1533.