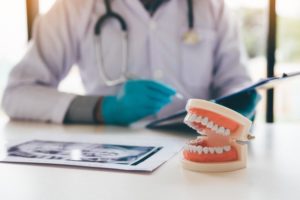 One of the pillars of maintaining a happy and healthy smile is regularly visiting your dentist for preventive care. However, for some odd reason, there are patients out there who believe they're falsely exempt from regular dental visits after receiving dentures in Big Pine Key! Keep reading to learn about four reasons why visiting the dentist for regular preventive care after receiving dentures is more important than ever before.
Reason #1: Helps Maintain Great Oral Health
Dentures benefit you primarily by replacing your lost pearly whites, which in turn prevents you from losing additional teeth (the type of denture designed to replace all of a patient's missing teeth is called a full denture). However, just because they're replacing your teeth doesn't mean that they're impervious to problems that affect them—they can still accumulate plaque and tartar, which spells bad news for your oral health. That said, visiting your dentist for preventive care will allow them to clear away these gross, harmful particles and ensure your dentures remain sparkling clean.
Reason #2: Detects Issues Early
There's more than meets the eye when it comes to your mouth; often, you yourself aren't able to detect serious underlying problems until they've progressed! However, visiting your dentist biannually allows them to check your mouth and ensure there aren't any problems with your teeth, gums, or dentures. Some issues they'll be on the lookout for include signs of infection or gum disease, bruxism, oral cancer and more. The earlier that these problems are identified, the easier it is to successfully treat them!
Reason #3: Allows Your Dentures to Be Adjusted as Needed
As you age, the hard and soft tissues in your mouth tend to shift and change (especially more so without the roots of your natural teeth), which can alter your bite pattern and in turn, the fit of your dentures. This isn't just uncomfortable; needless to say, it can cause a variety of other issues such as mouth sores, TMJ disorders, poor nutrition, gum disease, and more. It's not uncommon for dentures to need refitting every few months—which lines up nicely with needing to visit your dentist biannually for preventive care.
Reason #4: Prolongs the Lifespan of Your Dentures
Above all else, seeing your dentist regularly after receiving your dentures ensures that they last for the foreseeable future. As soon as they've become dirty, ill-fitting, damaged, or compromised in any other way, their longevity becomes questionable. In addition to checking your dentures, your dentist can also provide you with care guidelines that further prolong their lifespan.
Don't be mistaken; your dentures do not exempt you from practicing great oral care. In fact, you'll arguably have to take better care of your mouth than ever before to ensure they last—and visiting your dentist is the secret to this!
About the Practice
Cosmetic & Restorative Dentistry of the Keys is honored to serve patients and families in the Big Pine Key community under the leadership of Dr. Amanda Cobb and Dr. Dan Mazor. Together they combine several years of experience to provide patients with an exceptional level of dental care. Their practice is pleased to offer many available services including restorative options like dentures. If you have any questions about the article or would like to schedule a visit, feel free to contact the practice online or by phone: (305) 872-4272.