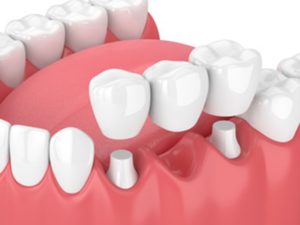 Missing teeth is a seriously widespread problem; in fact, it's estimated that roughly 170 million Americans struggle with tooth loss and are missing at least one of their pearly whites. Fortunately, solutions like dental bridges are readily available to restore up to several lost teeth in a row! If you're missing teeth, you might be curious about getting a dental bridge but have questions about their lifespan and required maintenance. Keep reading to learn more.
What Exactly Are Dental Bridges?
To put it simply, dental bridges are prosthetic devices designed to replace missing teeth, and there are typically two different types used: removable bridges and fixed bridges. Removable bridges are usually a little cheaper and don't require surgery, instead relying on abutment teeth to remain in place. Fixed bridges are either cemented in place or surgically fastened to your jawbone. However, both types function similarly in that they replace missing teeth and address all of the problems associated with gaps in your smile, including the tendency for additional teeth to become displaced!
How Long Can a Dental Bridge Last?
Researchers from the University of Rochester Medical Center claim that dental bridges can last for up to 10 years or beyond under optimal circumstances. Their lifespan depends on several factors including things like your oral care routine, regular dental visits, diet, and lifestyle habits. However, the absolute biggest contributing factor to their longevity is oral hygiene; the healthier and cleaner the mouth is, the longer the bridge will last!
Tips for Preserving the Lifespan of Your Dental Bridge
Fortunately, there are several things you can do to ensure that when you receive a bridge, it's around for the long run. Consider the following:
Practice regular oral hygiene by brushing twice a day with a soft-bristled toothbrush. Be sure to brush your bridge in addition to your natural teeth.
Don't neglect flossing; it's just as important as brushing!
Limit your consumption of sugary foods and drinks; the high sugar content in these items can cause tooth decay.
Be mindful of foods that are difficult to bite and chew including steak, nuts, caramel, and more.
Visit your dentist for biannual checkups and cleanings—this also lets your dentist inspect your bridge to ensure it isn't compromised.
Avoid unhealthy oral habits like smoking, using tobacco products, chewing on ice, or using your teeth to open packaging or hold objects.
The lifespan of your dental bridge is closely tied to the health of your mouth; practicing good oral hygiene is the best way to ensure that your bridge and remaining teeth are as healthy as possible moving forward!
About the Author
Dr. Amanda Cobb has proudly served the dental needs of the Big Pine Key, FL area for several years. Dr. Cobb received her dental doctorate from the Nova Southeastern University in Fort Lauderdale and is an active member of several professional organizations including the American Dental Association and the prestigious Academy of General Dentistry. Her practice is pleased to offer many available services including restorative options like dental bridges. If you have any questions about bridges or would like to arrange a visit, don't hesitate to reach out online or over the phone: (305) 872-4272.