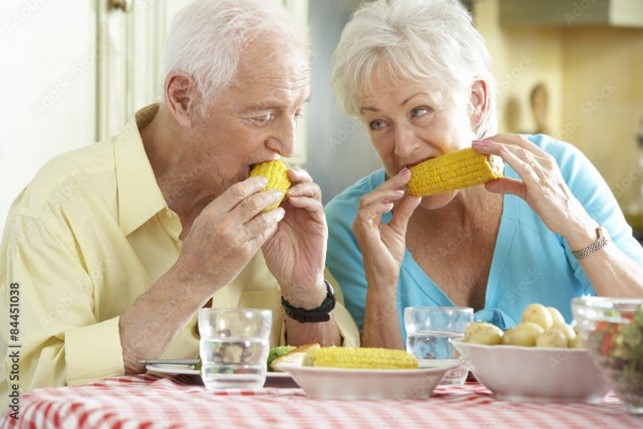 If you're dealing with missing teeth, you might be feeling annoyed right about now. It was recently the 4th of July, but you probably couldn't celebrate it with your favorite summer foods. Besides softer stuff like mashed potatoes and baked beans, many of this season's specialties require intense chewing. However, you can restore your smile and participate in summer cuisine: just get dental implants! These tooth replacements would give you the strength for even the toughest fare. Read on to learn dental implants' effect on meals and three summer foods they'd enable you to eat.
Dental Implants Help You Eat
As you may know, an implant works by fusing with your jawbone. Once its titanium rod is fitted into a jaw socket, new bone grows to hold it steady. As a result, it won't slip the way dentures and bridges do sometimes.
By keeping it in place, this fusion also causes your implant to act like a natural tooth. After all, the titanium base is solid and durable. Once properly fused, the implant will restore not only your smile but also much of your chewing ability. Consequently, you'll be able to eat foods you couldn't with missing teeth.
Which Summer Foods Would Be Back on the Menu?
Implants allow you to chew and swallow many summer favorites. Three of them are:
Corn on the Cob
Many summer barbeques feature corn on the cob as a side dish. Thankfully, your implants have the power to chew it!
At the same time, though, you should be careful. Kernels can often get stuck between an implant (or natural tooth) and your gums. That said, consider cutting the corn off the cob instead of eating directly from it. You're less likely to deal with frustrating kernels that way.
Tough Meats
Since they restore up to 90% of your original chewing force, implants can handle most meats. Whether you're having a steak, burger, or hot dog, you could chow down with confidence.
Even so, there are a couple of things you should remember. First, start with softer, medium-rare meats while adjusting to your new smile. Also, lay off the hot dogs — they have saturated fats that can lead to gum disease.
Crisp Fruits
Implants let you eat crisp and juicy fruits too. You'd be in the clear whether it's watermelon, blueberries, strawberries, or oranges.
Just try to avoid hard fruits in the first few weeks after your implant procedure.
Since you're already halfway through summer, talk to your local dentist to see if implant treatment this season can help you enjoy great food!
About the Practice
Cosmetic & Restorative Dentistry of the Keys is based in Big Pine Key, FL. As led by Drs. Amanda Cobb and Dan Mazor, the practice provides every patient with quality dental care. To that end, they offer preventive, cosmetic, and restorative dentistry, including emergency treatments like root canal and tooth extraction. For more information or to book an appointment, they can be reached at their website or by phone at (305)-680-1553.