Posts for: July, 2014
By Christopher D. Golden, D.M.D
July 21, 2014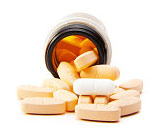 Does the word "vitamin" make you think of a capsule that comes from a bottle… one that you're supposed to take every day to improve your health? If so, it shows the effectiveness of the marketing strategy used by the vitamin and dietary supplement industry — a business that's valued at $25 billion annually. The other definition, of course, is a substance that your body requires (in small amounts) to control normal metabolic functions and sustain life. It's often assumed that taking vitamins in pill form can help you be healthier. But is that assertion really backed up by evidence?
It's true that if your body is severely lacking in any of the 13 vitamins, you could be at risk for developing a disease related to vitamin deficiency: scurvy or pellagra, for example. Moreover, several vitamins (notably vitamins C and E, and beta carotene, a precursor to vitamin A) are also antioxidants; these are molecules that can protect our cells (and our genetic material) from damage caused by toxins in the environment and metabolic processes within our bodies.
Fruits and vegetables are rich in vitamins A and C, and vitamin E is found in vegetable oils. That's one of the reasons why nutritionists and health-care providers stress the importance of a well-balanced diet, including plenty of plant-based foods. Many studies have shown that people who eat lots of vegetables and fruits have lower incidences of heart disease, cancer, and other chronic health problems.
You can also buy substances marketed as antioxidants and nutritional supplements in pill form. But contrary to what you might expect, in that form they don't seem to have the same protective effect on the body. Scientists still aren't sure why this is so, but it may have to do with the presence of many other biologically active compounds in vegetables and fruits. In fact, there is solid evidence that taking too many vitamins or supplements can be dangerous to your health.
We're certainly not saying it's of no use to take vitamins or nutritional supplements — especially if a deficiency is known to exist. If an individual isn't getting enough vitamin D because they avoid exposure to sunlight, for example, then it makes sense to take a supplemental dose. But we need to remember that a supplement in pill form isn't a substitute for a balanced diet — and taking unneeded supplements, or excessive doses, can lead to problems. Like it or not, there are few shortcuts on the road to good health. For more information about vitamins and supplements, see the Dear Doctor magazine article "Vitamins & Dietary Supplements: What Every Consumer Should Know."
By Christopher D. Golden, D.M.D
July 11, 2014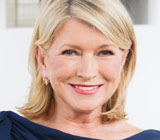 Martha Stewart has built a flourishing career by showcasing the things she's designed and made — like floral arrangements, crafts, and even home renovations. Just recently, she was showing off her latest restoration project: a new dental bridge. In fact, she live-tweeted the procedure from her dentist's office… and she even included pictures of the bridgework before it was placed on her teeth!
OK, it's a departure from paper crafts and home-made pillows… but why not? We can't help feeling that there's just as much craftsmanship — even artistry — in dental bridgework as there is in many other custom-made items. If you learn a little more about what goes into making and placing bridgework, perhaps you'll understand why we feel that way.
Bridgework is one good solution to the problem of missing teeth (another is dental implants). A fixed bridge is anchored to existing teeth on either side of the gap left by missing teeth, and it uses those healthy teeth to support one or more lifelike replacement teeth. How does it work?
Fabricated as a single unit, the bridge consists of one or more crowns (caps) on either end that will be bonded or cemented to the existing teeth, plus a number of prosthetic teeth in the middle. The solid attachment of the crowns to the healthy teeth keeps the bridge in place; they support the artificial teeth in between, and let them function properly in the bite.
Here's where some of the artistry comes in: Every piece of bridgework is custom-made for each individual patient. It matches not only their dental anatomy, but also the shape and shade of their natural teeth. Most bridges are made in dental laboratories from models of an individual's teeth — but some dental offices have their own mini-labs, capable of fabricating quality bridgework quickly and accurately. No matter where they are made, lifelike and perfect-fitting bridges reflect the craftsmanship of skilled lab technicians using high-tech equipment.
Once it is made, bridgework must be properly placed on your teeth. That's another job that requires a combination of art and science — and it's one we're experts at. From creating accurate models of your mouth to making sure the new bridge works well with your bite, we take pride in the work we do… and it shows in your smile.
If you would like more information about dental bridges, please contact us or schedule an appointment for a consultation. You can learn more by reading the Dear Doctor magazine articles "Fixed vs. Removable Bridges" and "Dental Implants vs. Bridgework."